Telephone Magic has upgraded its' cost-effective USB On Hold message player with our V2.0 unit.
Now more than ever, businesses are relying on their phone systems to support their customers, take orders, and produce revenue. Telephone On Hold Messages have become an even MORE important tool to inform and entertain clients while they wait on hold for service.
Thanks to our Message On Hold version 2.0 digital USB player, on hold messages are easier than ever. Our V2.0 USB player is designed for continuous audio playback of your custom on hold messages.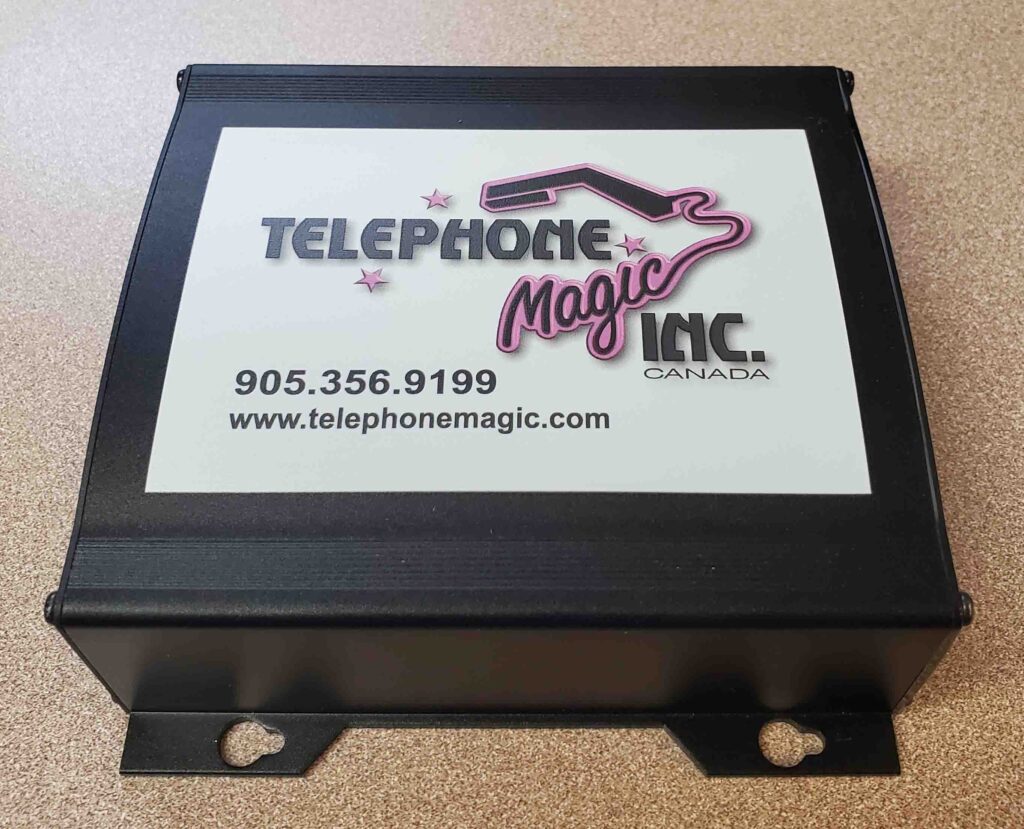 Our V2.0 USB system improves the design of original MOH players from other manufacturers – we added an external speaker which allows you to preview your on hold messages. Audio is stored on a removable USB MOH Drive which plugs into the USB hub on the unit. Your audio files are played in alphanumeric order depending on their filenames, making organizing your content a snap! Audio files are emailed to clients without the need to ship physical media.
MP3 audio is the most popular audio compression format. You can use MP3 files with sampling rates from 8 to 256 kbps, depending on the quality you require. No additional software is required to load MP3 files to the USB flash drive. Our V2.0 USB unit will play a built-in, generic on-hold message if you remove the USB Drive from the player. Inserting the MOH Drive will automatically start playing any messages on the USB Drive within 10 seconds. We recommend you use 64kbps or greater Stereo MP3 files for best audio quality.
Our V2.0 USB unit is intended for use in business applications that include message-on-hold and in-store music / announcements. The system has a constant power source and the solid-state memory will re-boot the audio playback automatically after a power outage. No more need to reset the unit when the power's been out. The durable aluminum case can withstand rugged phone room conditions and reduces possible RF interference. The compact design and visible flanges ensure an easy installation on the phone room system's wall.
Our USB V2.0 Message On Hold player improves the design of original digital On Hold Message systems with the addition of an external speaker which allows you to preview your on hold messages right at the unit after uploading them to the USB MOH Drive.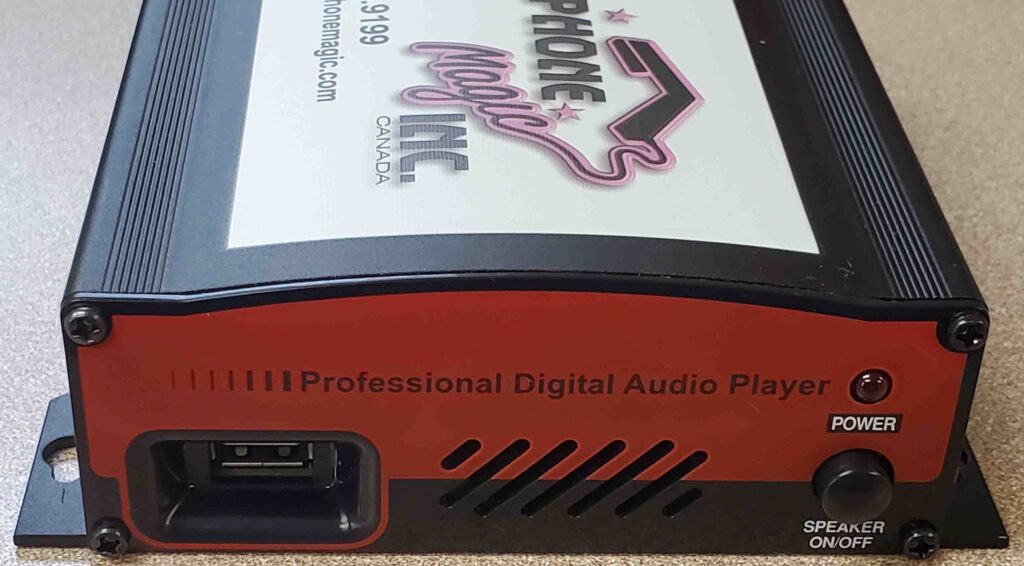 The output volume is continuously variable, allowing you to fine tune your message playback volume.
Our V2.0 On Hold Messages USB Player features:
LED Indicator: Red LED Status Light
Message Loading: USB MOH Drive
Memory Type: Non-Volatile USB Flash
Memory Capacity: Up To 16GB (ships with 128MB drive)
Sampling Rate: 8K to 256K Stereo – Auto-Detected By Player
Maximum Files: Up To 512 Individual MP3 Files
Message Playback: Continuous or Trigger Controlled
Output Volume: Continuously Variable
Dual Audio Outputs: 600 Ohm Line Level – 8 Ohm 3 Watt
Power Supply: 120VAC 60Hz to 12VDC @ 500mA
Mounting: Wall Mounting Included
Test Speaker: Built-In With Push On/Off Switch
Dimensions: 5.8″W X 1.7″H X 5.2″L
Playback Pro Tip: If you wish to store audio files on the USB MOH Drive but not have them played by the system, simply create a folder on the USB MOH Drive and save the audio files you wish to exclude in that folder. The audio files will be stored on the drive, but ignored by our V2.0 USB player. When you want a saved audio file to play, simply drag it out of the folder to the root directory of the USB MOH Drive and our V2.0 USB system will play it.
Call us toll-free TODAY at 1-855-929-9199 for more information and wholesale pricing on our V2.0 USB Message On Hold USB player for your business. We offer wholesale-direct pricing and also offer discounts for multi-unit purchases.