Avaya had a wildly popular wireless phone known as the 3810. It was so popular that we still get a lot of inquiries for it. The Avaya 3810 was discontinued in 2011 but thanks to the internet, it's possible to search for anything.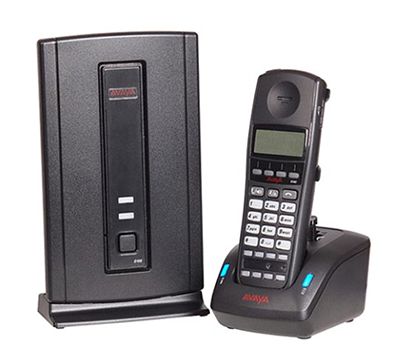 To answer the need, Avaya introduced the D100 SIP DECT wireless phone system. It is a really slick system that can be managed via the IP Office Manager without any additional configuration needed. The range of the base station is between 100~350 feet indoors and up to 700 feet in the open. We all know there are many factors that work to decrease wireless signal strength, so Avaya addressed this through repeaters that can be added to the system, each with its own 100~350 feet coverage range. You can add up to 6 repeaters on the system to get more coverage. The repeaters don't require any additional wiring – just a plug – so it's a really nice solution.
Each base station can connect with up to 8 Avaya D160 handsets, and you can connect up to four base stations per IP Office installation. Since the system is integrated with IP Office, the handsets support IP Office features like Busy Lamp Field (BLF), Message Waiting Indicator (MWI), hot desking, emergency calls, programmable buttons and more.
The D160 handset offers a handsfree mode, and you can also use a corded headset like the Plantronics MX500C which plugs into the headset jack. Unfortunately there's no Bluetooth option but all in all, the handset's a solid performer.
For many companies using IP Office, the D100 system is what we recommend for their wireless solution. It's a plug-and-play solution that provides lots of flexibility and features. If you're looking for wireless freedom with your Avaya IP Office phone system, check out the Avaya D100 wireless phone system.