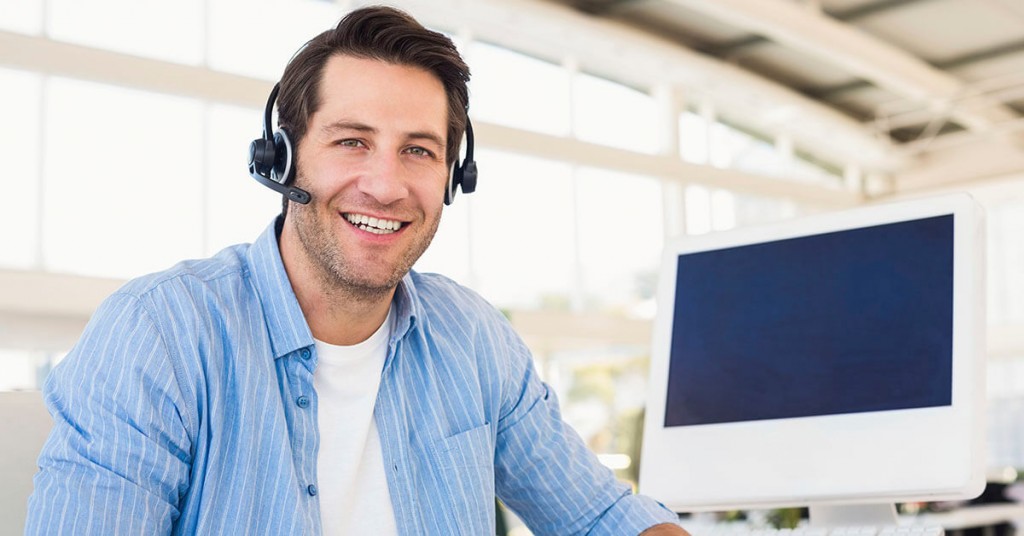 Having a job is great. A desk job is seen as cushy by a lot of people. Unfortunately, sitting at a desk all day is not great for your health. Fortunately, there's a piece of tech that can make a huge difference in the quality of time you spend at the office and even add years to your life. Can you spot it in the above picture?
Of course you can. It's the headset the smiling guy's wearing. If you make the switch from using  a handset to a headset for your calls, you'll probably be smiling too. Here are some of the benefits of headset use.
Reduce or Eliminate Pain: Numerous studies have confirmed that headset users have fewer headaches, neck aches, and less upper back and lower back pain than non-headset users. These benefits can be had with regular corded headsets, but even more benefit can be had with wireless headsets. Why? Because wireless headsets allow you to get up and move freely while on the phone, allowing users to stretch and even go for a walk while they're on the phone.
Lose Weight: One might not think about a headset being useful for weight loss, but having a wireless headset can be important if you sit a lot during the day. Your metabolism kicks into very-low gear when you're sitting and this can lead to significant weight gain. Having a cordless headset gives you the freedom to get up and move around. Even getting up from your desk every 20 minutes helps boost your metabolism.
Increase Productivity: Maybe you haven't thought about it, but having two hands available to work is going to make you more productive. Holding a phone's handset with your hand is like wearing a handcuff. Worse though is holding a phone handset or a mobile phone between your ear and your shoulder.
Lower Stress: In surveys, many office workers report a contributing factor to their daily stress in the office is feeling they can't leave their desks. A wireless headset allows people to get up and walk around while still being productive. Leaving your desk gives you a bit of new scenery and a fresh perspective and can lower your stress, making you happier and more productive.
Headsets reduce or eliminate pain, make users healthier, more productive and less stressed. In all, they're probably one of the smartest investments you can make for your business.
If you need help choosing the most appropriate headset for your workplace, please give one of our headset specialists a call at 1-855-929-9199 and they'll be happier to walk you through the options.