The past couple of posts have been talking about Cisco's desktop IP phones, so I thought I'd take a moment to talk about their mobile IP phone offerings.
There are three Cisco wireless IP phones available at this time: the 7925G, 7925G-EX and 7926G. Each of them is built to last, having at least an IP54 rating for dust resistance and splashing water resistance. The cases are hermetically sealed and the phones comply with military 810F standard against drops and shocks.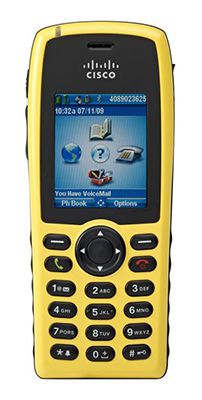 All three phones connect to the Cisco phone system over the WiFi network, so your range is only limited by the range of your company WiFi network. This is a great feature and will come in handy for those working in facilities where WiFi coverage is ubiquitous. It's also good for those who are teleworkers at home offices.
The phones also have Bluetooth 2.0 so you can attach a wireless Bluetooth headset and work hands-free. A 2.5mm headset jack is also available so you can use a corded headset if you prefer.
Added Ruggedness & Resiliency
For those working in the oil and chemical industries, or in other potentially explosive environments, Cisco's 7925G-EX model (pictured right) is probably your best choice. In addition to all the other features, the 7925G-EX has Atmospheres Explosibles (ATEX) Zone 2/Class 22 and Canadian Standards Association (CSA) Class I Division II certifications.
Cisco's 7926G wireless IP phone has an additional feature: a built-in 2D bar code scanner. Great for workers in warehouses and anywhere bar code scanning is needed.
All in all, if you're on a Cisco phone system and are looking for more freedom from your desktop, consider the Cisco 7900 wireless IP phones. They're packed with features and will keep you on the move.