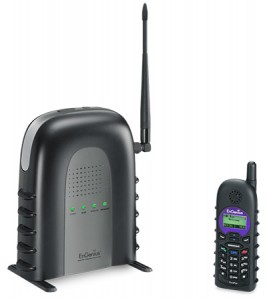 If you've been looking for a long range cordless phone that will work with your IP-based PBX, look no further than the EnGenius DuraFon SIP system.
EnGenius is one of the most trusted names in the North American long range cordless phone market. Their DuraFon multi-line long range cordless phone system has been satisfying customers for years. Now, you can add the DuraFon-SIP long range cordless phone to your existing IP-PBX system.
It's a pretty cool system, supporting up to four concurrent conversations (either 4 SIP calls or 3 SIP calls + 1 PSTN) and a range of up to 12 floors in-building coverage, up to 250,000 sq. ft. in warehouse settings or up to 3000 sq. acres in open range settings.
The DuraFon-SIP system supports up to 10 long range cordless handsets, each of which feature 2-Way Intercom and Broadcast features. More than one DuraFon-SIP base station can be added to your IP-PBX, but there are some limitations on phone conversations between handsets registered to different base stations. Most notably, the 2-Way Intercom and Push-to-Talk features won't work, but you can still make handset to handset calls by using PBX extension-to-extension calls.
If you have questions about the DuraFon-SIP, check out our extensive DuraFon-SIP FAQ section or call one of our sales reps at 1-855-929-9199 and they'll be happy to find the answers to your questions.